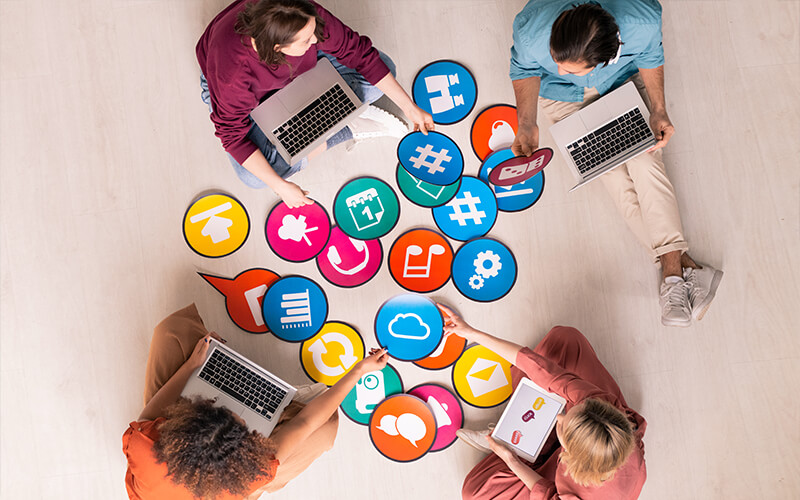 Do you want to know what are the most in-demand marketing and communication career in 2021? Well. This article will guide you to know the top skills you'll need to build your career In the marketing and communication sector.
Social Media Marketing Strategist
Social media strategists are responsible for handling businesses' marketing initiatives through the different social media marketing platforms. Commitments can include figuring out which program will most effectively spread the marketing message and greatest make it to the target audience and actually making and managing the content, making sure that it must be up to date as trends change.
As social media strategists may be dealing with several different mass media sites, including Twitter and Facebook, and making content material for blogs and forums, business and multiple-tasking abilities, along with creative thinking abilities, can be helpful.
This position generally takes a bachelor or diploma degree in communication, public relations, or a related discipline.
Web Content Manager
As so much of marketing and advertising communications nowadays takes place on digital media, this industry also offers people the pc expertise and data needed to control and maintain a website's information and content.
Web content managers generally watch over employees who actually create and produce a website's articles. In addition to management skills, they should understand and know many different website design equipment, animation application, and coding languages.
A bachelor's level is essential, typically in a computer-related industry.
Public Relationship Specialist
It's not all marketing communications that involves the advertising of products. It is sometimes an organization itself that needs to encourage a certain image, and this is just what publicity relationship professionals do.
Public relations professionals aid their customers in interacting with details on the general public, predominately by using press announcements, even though they are also responsible for coordinating interviews for their clients and, in many cases, assisting with write speeches.
Public relationship experts must have exceptional written and verbal communication skills and work well with several individuals, such as their customers and multimedia. At least a diploma education is required, and majors like public relations, journalism, marketing, and organization are typically related.
Graphics Designer
Advertising and marketing initiatives will never be successful when they tend not to pick up the viewer's consideration, and that is certainly where graphic designers can be found in. Graphic designers use their artistic skills, combined with their understanding of design software, to add much different text messages, photos, along other pictures to the marketing content found in both conventional and digital types of marketing, including the actual packaging of any product.
Graphics designers are responsible for the general impression created and therefore work closely with the writers in the materials, aiding the design's layout and making sure that all images interact with each other.
A degree in graphics design or another relevant field, such as art, is needed.
Content Marketer
A content marketer's main focus is on the firm or brand's website, in contrast to social media programs, emphasizing getting to build consumer awareness of the business and merchandise through info introduced on the genuine website rather than advertising and marketing via social websites.
Content marketers, for that reason, are responsible for producing and posting fascinating content for a company's website that may instruct and advise shoppers on distinct brand names, together with the ultimate goal becoming to encourage a customer to wish to use that company's products.
Content marketers have to be creative and have outstanding written communication capabilities.
If you have a great deal of interest in building a career In this creative industry, you can ladder up to your skills through the Diploma of Marketing and communication. This course is designed to provide all the required skills that you'll be needed to build a career in this industry faster.