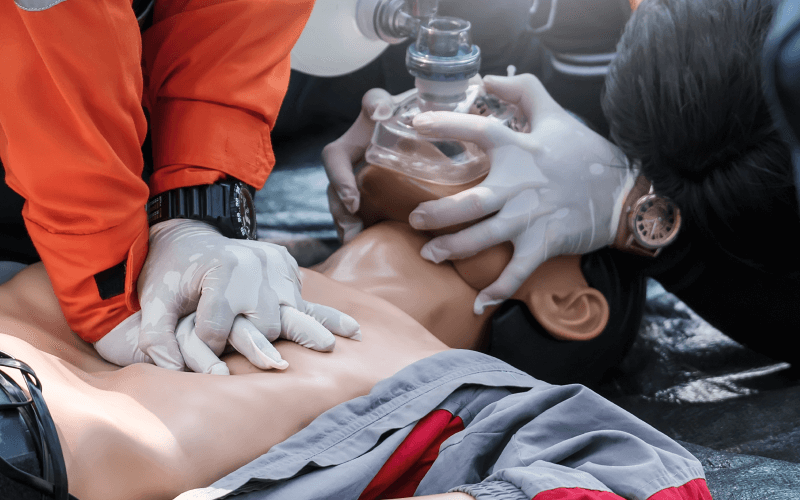 Cardiopulmonary resuscitation (or CPR) is a crucial skill to have. If you've received CPR training, you could potentially save the life of a family member, coworker, or even a stranger.
First Aid Accident & Emergency encourages individuals working in industries to consider updating their first aid and CPR skills seriously. CPR saves lives! You can help buy time until medical help arrives at the scene of an emergency by performing CPR.
If a person has stopped breathing or the heart has stopped beating, CPR should be performed. There are numerous emergencies in which CPR is required, such as a heart attack, drowning, or drug overdose.
Maximum sudden cardiac arrests occur in a recreational setting or at home, where they are unexpected, and usually no medical professional nearby to provide immediate assistance.
Practicing CPR and first aid skills are essential to ensure you're prepared at all times and in all places. Here are five reasons to learn CPR.
Be Ready for Cardiac Emergency
In approximately 37% of cases, a bystander witnesses a sudden cardiac arrest. You could be that bystander! CPR training gives you the knowledge, confidence, and skills you need to stay calm in a medical emergency and help someone in need.
Individuals who have received CPR certification are prepared to make a difference in their community by being ready to act whenever a cardiac arrest occurs.
Every Minute Counts
Every second counts in a medical emergency. To avoid the damaging effects of a lack of blood flow to the brain, heart, lungs, and other organs, victims of sudden cardiac arrest require immediate CPR. CPR can improve the victim's chances of survival.
Protection from Brain Death
During cardiac arrest, the heart stops supplying blood to the brain and other organs. The victim becomes unconscious as blood flow to the brain decreases. Without proper blood flow, the brain can suffer damage in as little as three minutes.
There may be irreversible brain damage after nine minutes of no blood flow to the brain. CPR helps to keep the victim's blood flowing and may help to minimize the victim's injuries.
Faster Recovery
If a person has a cardiac arrest and receives prompt CPR, their chances of survival and recovery improve. CPR can aid in the recovery of a person by restoring breathing and blood flow. After receiving high-quality CPR, the victim may sometimes regain consciousness with minimal side effects.
CPR Makes Work Safer
Workplace safety is essential for any corporation. Many businesses are now training employees in CPR to ensure that help is available in an emergency.
Workers who have received First Aid and CPR training help to reduce workplace accidents and can even save lives on the job. Investing in CPR training for employees demonstrates to employees that the company is concerned about their health and well-being.
People with a better understanding of CPR have a higher chance of landing better jobs. HLTAID009 Provide Cardiopulmonary Resuscitation and will give you the necessary techniques within hours. So, get your certificate and increase your value today.