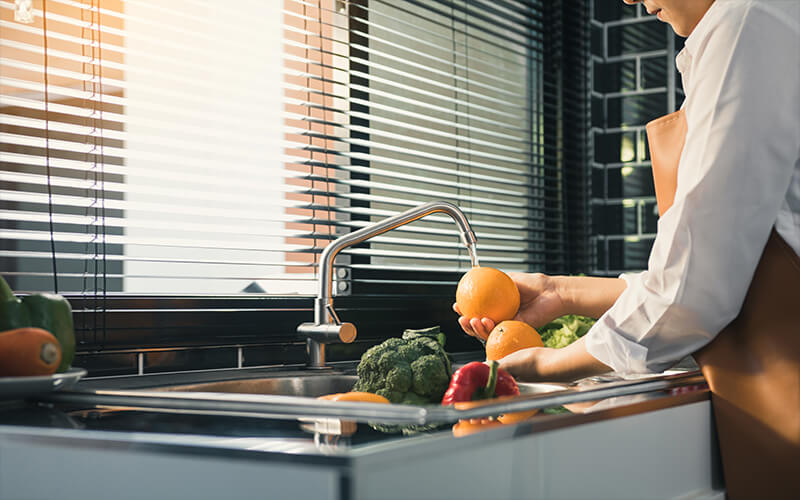 The benefits of Training Food Handlers on Food Hygiene Practices at all levels, from workers to commercial processors, importers, and foodservice establishments, are a must to ensure food safety.
Inadequate training of workers is one of the major causes of foodborne illness outbreaks. Education of food handlers increases their knowledge on food safety and hygiene practices that prevent contamination of food products and environmental surfaces. This benefits the employees as well as consumers, as food handlers have a better understanding of how to handle food.
Processing plant employees must meet health and hygiene criteria, as they work with raw materials that can carry pathogens. Raw materials can be contaminated during processing.
If the employees are not aware of food hygiene practices, workers risk spreading the pathogen to other foods, environmental surfaces, and equipment.
1. Lowering of Food Wastage
If someone does not make use of appropriate food health practices when handling foods, it may come to be unsuitable for consumption due to toxic contamination.
In this case, food hygiene training teaches the individual the proper manner of organizing and storing meals so that the foods remain in a suitable state of good quality and are also not wasted or thrown away.
2. Health Issues
Many food companies are affected because of recklessness in the handling of food in a way or maybe the other. Nonetheless, individuals could get sick as a result of consuming contaminated food, one of the greatest issues for food handling organizations.
Correct training for food handlers in hygiene can reduce these cases mainly because they acquire far better attention to make sure that your meals are not prepared in contaminated areas, leading to foods poisoning or going across contaminants.
3. Learned Behavior
It is important in the food industry to deal with food carefully. This can ensure that the food handlers get into the habit of being mindful of the risks linked to inappropriate meal handling.
In training food handlers, every one of the suitable techniques and methods of coping with foods hygienically, they could then consistently apply all these methods. Food safety training educates food handlers to create foods hygiene behavior second nature.
4. Good Reputation
Any organization thrives around the track record it creates for itself in whatever support it may offer. It is not distinct for foods establishments. The reputation is exactly what gives the establishments its reliability.
When the food handlers are shown the right hygiene education, their coaching application automatically reflects the food company. Consequently, the organization will probably be trustworthy and regarded as a trusted foods establishment.
5. Proper Working Situations
Unclean working problems can lead to very low morale among workers and demotivate them. That is why a food company must utilize these clean practices in the workplace.
Cleanliness within their workspace can benefit the meal handlers, which may be more motivated if they are inside a hygienic area, resulting in inefficiency.
6. Productivity in the Workplace
As mentioned before in the 5th advantage, proper cleanliness techniques can lead to efficiency in the workplace and better productivity levels.
This would primarily be because once the food handlers are trained within the suitable manner of coping with hygiene, they can do it efficiently, which is an enormous benefit to the business.
7. Keeping within the Legislation
There are actually legislative constraints for many organizations or businesses, and foods businesses are not various. They have to maintain the law and look after satisfactory hygiene standards.
By doing this, cleanliness training for food handlers helps ensure that the establishment will not incur penalties or be turned off for offenses about personal hygiene or cleanliness-related issues.
See also :