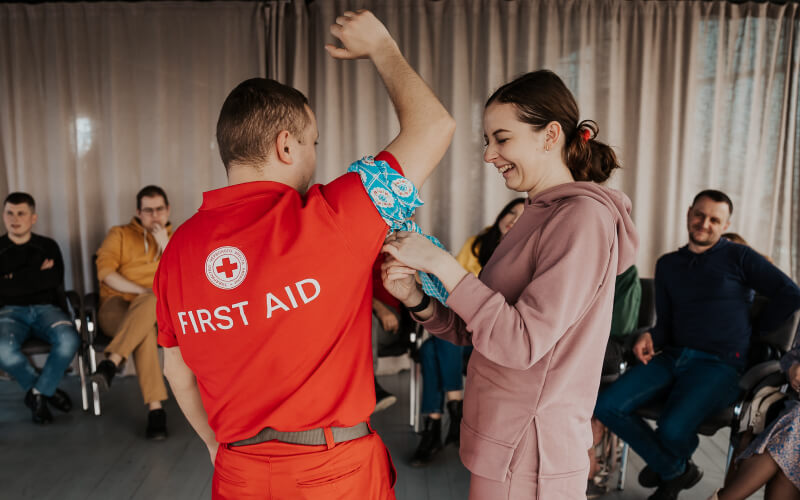 First Aid knowledge is invaluable for both in individual and community aspect. You can apply first aid in various situations, from minor to major health emergencies. In the modern, super competitive world of work, a first aid qualification can help you stand out as a helpful employee.
Knowing first aid and being qualified has more advantages than you might think. The main reason to learn it is to help people and save lives.
Having a current first aid certificate, however, will provide you with several unexpected benefits.
In Australia, safety is considered one of the most important factors in the workplace. Let's see how a first aid certification can help you in that environment. Here are four reasons you should learn first aid and how it can benefit you.
Enrich Your Resume
The job market is very competitive. It can be difficult to make your CV stand out and get noticed. Knowing first aid and having a current certificate can make you more eligible for promotions at work, which can boost your earning potential. Completing a First Aid course will increase your appeal to potential employers, irrespective of which industry you work in.
Many businesses require all or a certain number of employees to be trained in First Aid, with the type and extent of the training varying depending on the job. Your opportunity of being noticed and getting hired will rise for those jobs. Even if the role doesn't require first aid training, it can help you stand out among other applicants.
Handle Emergencies
After understanding the threats and first-aid procedures, you'll become much more safety-conscious everywhere you go, which will help you to avoid life-threatening damages. Completing first aid training credentials will also demonstrate to an employer that you've learned how to deal with stressful situations, whether they're life-or-death. Your prompt action could save a coworker's life and protect your employer from legal action.
Boost Confidence
Adding a first aid certificate to your resume will give you a sense of accomplishment and increase your confidence. This confidence will also help you to stay level-headed and boost your efficiency. Employers love people who can demonstrate their skill while maintaining their postures and keep situations under control. So, it will also improve your image to your employer.
Add Valuable and Diverse Skill
First aid skill is a combination of diverse and transferable skills. The key strengths and traits associated with it include:
Ability to maintain a cool head in high-stress situations.
Compassion.
Decision making.
Problem-solving and focus.
All these skills are applicable in multiple fields. It will add up your value in the job market and make you eligible for higher-paying jobs.
Career Opportunities for First Aid Certified Workers
Although first aid training is not necessary for all types of jobs, the certification will have an impact on paper. By acquiring this skill, you will demonstrate your competence not only in your area of specialization, but also in other career opportunities. Simply completing first aid training necessitates you taking on the roles of leader, team player, and skilled communicator.
Accidents and emergencies are not completely avoidable or preventable. As a result, it would be advantageous if you were as prepared as possible to deal with these situations.
Becoming First Aid certified benefits not only you as an individual, but also your family, friends, coworkers, and the community as a whole. First aid can and frequently does lessen the severity in emergencies.
Get your first aid degree to make yourself more deserving and secure your desired job. Oscar Academy is offering HLTAID011 Provide First Aid and HLTAID012 Provide an Emergency First Aid Response in an Education and Care Setting for you. Learn the necessary skills today.